Formats

If you want to place a graphic on the world wide web, you must first make sure that it is in one of the formats supported. Web graphics are all bitmap formats. (Note; Shockwave/Flash is a vector format which requires extra browser plug-ins to work).

There are many shareware conversion utilities available. In addition, many paint programs will load and save in different formats thereby giving a conversion facility.

The most common format for the web is GIF. There are two types of GIF file: 87 and 89. Both can be either interlaced or non-interlaced. Both types take about the same amount of time to appear. A non-interlaced GIF will gradually appear on the screen. An interlaced GIF will appear much quicker, but will be blurred. As more of the picture downloads, the clearer it becomes.

GIF 89 can also be transparent. That is, you can nominate one of the colours to be "see-through". When a picture is placed on the web the background of the page will show through where the transparent colour is. Transparency is mostly used on the background colour where you want the graphic to appear to as a cut-out, rather than a rectangle. Look at the two Good News Bible Logos* on the left, which have been placed on a red background. The first file has no transparency. The second has the white background marked as transparent.

A common use for GIFs is animation. Just like a TV cartoon, an animated GIF is composed of a series of still pictures that "play" one after the other. Animating a GIF will put movement onto a web page, but will also increase the size of the file.

The next most common format is JPEG (JPG). Generally speaking, JPEGs are used for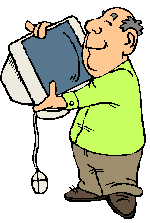 photographs and GIFs for other pictures. Most programs that save in JPEG format offer a choice of compressions ratios. Whilst JPEGs can compress very well, it is sometimes at the expense of clarity of the picture. In many cases a small loss of clarity is imperceptible. The advice is: experiment to get the best trade-off between file size and picture clarity.
As full-colour photographs, JPEGs are often 24-bit (16.7 million colours) and therefore larger files, where compression is more important. GIF formats, however, are restricted to 8-bit (256 colours). To reduce a photograph to 256 colours can sometimes lead to tones that are not smooth.
The third format is a new one that has been slow taking off. It is the PNG (Portable Network Graphics) format. Very few web images are in this format.
Web browsers are designed in such a way that when they encounter a file in one of these formats, they will display it on the screen. If you mean for the picture file to be downloaded without being shown, compress it as a zip file (or stuffit, or LHA etc. according to the destination computer) first.
Please note that technology is moving fast and it is possible that there will be exceptions to the above when you read this!